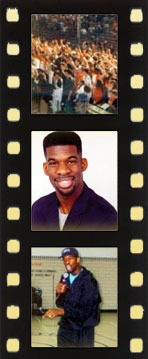 Since 1995, Rev. Titus Lee has carried the message of victory and hope across the United States and the nations as an evangelist speaking in local churches as well as in conferences, camps and educational institutions. The evangelistic ministry of Titus Lee is multi-cultural and multi-denominational. His dynamic messages empower all people to fulfill their God-given potential through faith in Jesus Christ.
In 1996 he founded Operation Link-Up,
which is a holistic mentoring program that empowers urban youth between the ages 12-18 through its: Life Enrichment, Academic Assistance, Performing Arts, Martial Arts and Five Star Quality programs. Hundreds of teens are impacted through this innovative mentoring initiative on an annual basis. He is also the author of the top-selling Teen Life Soulutions Bible curriculum series which is currently being used by hundreds of churches and organizations in the United States and abroad.
Titus' passion to reach people was stirred as a teenager in his parents' church in Davenport, Iowa where he served during his youth. He was also a stand out basketball player in High School. He was privileged to attend Southwest Baptist University where he studied Bible History and Psychology. He served as the Youth Pastor at Southside Tabernacle Assemblies of God under the leadership of Pastor Spencer Jones from 1993-1995. In which time he also served as the Chicago Central Section Youth Representative for the Assemblies of God.
In October of 2002 Triumphant City Church was birthed out of the Operation Link-Up. He was installed as the Pastor of this new church plant by his Pastor, Dr. Ray Allen Berryhill of Evangel World Outreach Center. Triumphant City Church empowered hundreds of people spiritually and physically through it's worship, Word and programs on the southwest side of Chicago. In 2010 Titus merged Triumphant City Church with Southside Tabernacle Assemblies of God in Chicago. He serves as the Senior Pastor of Southside Tabernacle Assemblies of God (Southside Worship Center). Each week he leads and ministers the Word of God in multiple services to this vibrant congregation! Southside Tabernacle A/G is a place where people care and overcome
www.sswcenter.org
.
Titus' commitment to religious, civic and community service has garnered him numerous commendations and awards. He was a former national Brick Award Nominee. He currently serves as the Chairman of the 8th District Clergy Committee for the Chicago Police Department. He also faithfully serves on the Board of Directors for several community, philanthropic and faith-based organizations. Titus is a committed Husband and Father. He has been happily married to his beautiful wife, Nedra, since 1995. They are the blessed parents of two daughters (Dranea and Faith) and one son (Titus II). The Lee's reside in the Chicago area.