Make The Connection Youth Leadership Course

Questions? Call 866.658.8336
Includes Training Manual and Audio CD
"

Make

The Connection" is a seven unit adult youth leaders training tool that is useful in various training settings. The strategies that are found in Make the Connection are applicable for a variety of settings. We recommend using Make The Connection in one of the following three ways in your organization or ministry.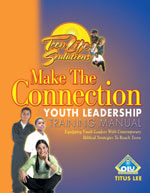 Youth Leader Orientations
:
Make The Connection gives new youth leaders contemporary strategies that are needed to successfully impact teens on a weekly basis. It can be used as a seven week orientation for all new youth workers.

Make The Connection can be

used

to sharpen youth workers as they work with teens through out the year! We recommend completing a unit of study every other month if you choose to take this approach.

Christian Education Class/Group Study:
Make The Connection can be used as a class that equips adults to mentor teens in the local church and community. Many adults desire to learn ways to reconnect with the teens of today. Therefore, Make The Connection can serve as an excellent base of study for the adults in your organization or ministry.
THE "MAKE THE CONNECTION" UNITS ARE:
(Includes a Group Training Manual and Audio C.D.)
"THE JOURNEY LEADS TO JESUS"
"FOCUS ON YOUR DESTINATION"
"MENTORS MAKE THE DIFFERENCE"
"THE NEXT LEVEL"
"THE MINISTER IN THE MIRROR"
"YOUR TESTIMONY IS YOUR TOOL"