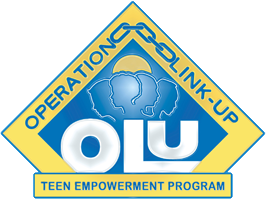 Empowerment Programs
Leadership
Leadership is a major component of our mentoring efforts. At OLU youth are empowered to lead by practicing our core values of courage, consciousness, compassion, cooperation, and consistency.  They also learn how to apply these five styles of leadership every day. They are also raised up be positive shareholders in the community. Each week the leadership skills of our youth are sharpened through leadership exercises.  
Life Enrichment Mentoring
These amazing mentoring sessions hit the key areas of youth life. Significant subjects such as anger resolution, self-worth, honor and respect, vision, and more are tackled. Our mentoring curriculum fosters conversation, reflection, and life application exercises. These weekly sessions equip teens to be morally and socially responsible.
Academic Assistance
Twice per week our students are sharpened in the areas of Language Arts, Reading, and Math. Students are enhanced through a combination of skill development exercises and homework help. Our trained tutors bring out the best in students that desire to improve academically.
Arts
Arts are a big deal at OLU. Because it's through artistic expression that many of our youth discover their creativity, relieve stress, and learn discipline. One day per week is dedicated to developing the artistic abilities of our youth.  Our trained instructors help them go from good to great in whichever art form they choose to participate.  
Current Art Offerings:
Dance Instruction
Theater/Drama 
Martial Arts 
Restorative
We open our doors to youth who need a fresh start.  Our program welcomes those who have struggled academically or behaviorally.  Our staff consists of certified counselors who help youth sort through difficulties.  We include students who are desirous of successfully overcoming challenges of their past.
Contribution 
We equip youth to excel at giving back to their community through service. We take them through a four-step monthly process of creating solutions to community wide problems.  This entails carrying out six service projects per year. They indeed learn how to make it happen in the community through tangible acts of humility.