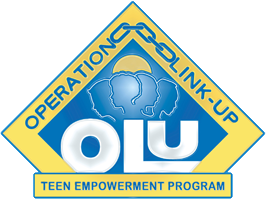 Volunteer Requirements
Adult Volunteer Team Requirements
Thanks so much for your interest in working with Operation Link-Up.  Our objective is to mentor, motivate, and mobilize teenagers. We are always open to adults who desire to participate in our vision.  Working with you is one of the most enjoyable yet sensitive things that any person can ever do on a regular basis.
Every youth who walks through our doors is entrusted to us. Because of this we are open but selective of the adults who work with Operation Link-Up. Because the youth in our program are minors all volunteers must complete a background check as well as our four hour Make The Connection Training course prior to engaging with youth in our programs. 
We hope that you may be able to make a positive contribution to the lives of the next generation. Please see the volunteer requirements below.
7 Requirements to Becoming a Volunteer at Operation Link-Up:
Complete volunteer application
Complete basic background check
Complete our two-part training course
Commit to adhering to our Best Practices and Rules of Engagement
Commit to serve in our program two hours per week.
Be consistent 
Be a positive example before the youth of OLU